THESE STARS ARE YOURS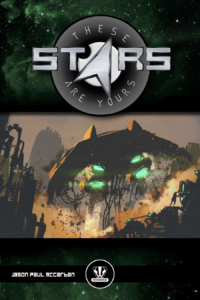 THESE STARS ARE YOURS is an OSR science fiction supplement that supports the White Star RPG as well as a number of other old school roleplaying games.
Within this large tome there are three sections that explore space and everything that it brings. The campaign and other generators in the book will allow you to mix and match different science fiction genres and tropes to create your own unique science fiction settings that can include everything from cyberpunk, dystopias, bug-eyed monsters, planetary romance, hard science fiction, military science fiction. With the toolkit approach in the book you'll be able to emulate or build the types of campaigns and settings that have existed for years in science fiction novels, movies, and television shows.
THESE STARS ARE YOURS itself will be a book of three parts.
PART I: THE UNIVERSE AS WE KNOW IT AND WISH IT
A look at literature and universe building in different medias and the different types of science fiction that exists
A comprehensive look at the universe and what kind of stellar matter actually exists
An exploration of different planets and moons
Galactic and interstellar star travel
PART II: ADVANCED WHITE STAR RPG
Advanced rules to move the White Star RPG beyond its original game roots, allowing it to be be played using much more complex rules (including updating existing content)
Many more options for starships of all sizes and starship equipment including weapons, computer systems, stardrives and engines, and more
An entirely new starship building system
10 unique distinct "hyperspaces" for you to use with your White Star RPG games
Many optional rules to enhance your games
PART III: SPACE CAMPAIGNS
An entirely new campaign, built using the tools in the book, used an example throughout the entire book.
An extensive chapter looking at building your own unique science fiction space campaign and how to build it
Toolkits and generators to help you build the universe and worlds you'll play in, along with all of the aliens, creatures, and technology that you'll need
A tag-based approach to building technology and campaign elements allowing you to mix and match specific elements that belong in different genres
This book will integrate with THE GRAVEYARD AT LUS, THE NECROID HOST, FREELANCERS, and MADE IN ANOTHER'S IMAGE to allow you to increase your play options.
The final page count of the THESE STARS ARE YOURS is expected to be around 300 pages in size The book is being published in 6″ x 9″ US trade format. Prices have not been determined yet.
BUY
| | | |
| --- | --- | --- |
| | DriveThruRPG | RPGNOW |
| Digital Edition | TBA | TBA |