THE BOOK OF BONUS STUFF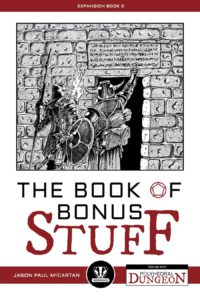 POLYHEDRAL DUNGEON: THE BOOK OF BONUS STUFF is the fifth Expansion product for POLYHEDRAL DUNGEON.
This book
contains content that didn't or won't make it into the other four upcoming Expansion Books (THE ADVANCED RULES, THE BOOK OF MONSTERS, THE BOOK OF MAGIC, THE BOOK OF LOOT), including new Talents, Monsters, Loot, rules, and other content that will help to enhance your game sessions of POLYHEDRAL DUNGEON. (The other Expansion Books are in the works and due to be released early 2018).
This publication will be updated on a regular basis with new content. Eventually additional artwork will be added to it and it will be made available for purchase in print. The digital editions will always be free forever. And then we'll start to make THE BOOK OF BONUS STUFF II, and start all over again.
BUY
 InfiniBadger
Webstore
DriveThruRPG

RPGNOW

Lulu
Digital Edition
FREE
FREE
FREE
NA