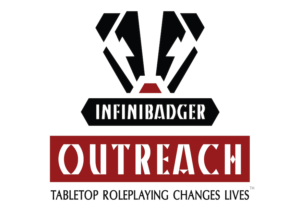 Here at InfiniBadger Press, we're believers that there are numerous benefits to playing tabletop roleplaying games. We also believe in making gaming accessible to as many people as possible and that "tabletop roleplaying changes lives". That's why we've created the InfiniBadger Press Outreach Program!
The Outreach Program is designed to allow easy access to gaming for kids and adults, especially those who are at risk and/or have limited income or resources. The program is available to organizations looking to use or who currently use tabletop roleplaying games as part of their programming.
Organizations that can qualify for the program include:
Public school programs, including After School and Summer School, libraries, and clubs
Adult and youth educational programs, including 4-H and Extension
Libraries and other public sector organizations that run teen and adult programming
Faith-based youth and adult clubs
Other organizations that run program for at-risk and low-income youth and adults that don't fall into the above categories
The program offers the following benefits:
A complete site license for digital versions of certain InfiniBadger products to allow staff/support personnel low-cost access to gaming products for use within their own programming. The site license allows printing off copies of the products for use within organization programming.
Discounted bulk print purchasing of these products for program participants.
Ongoing support from InfiniBadger Press, including providing guidance in how to help use our Outreach Program products within your organization.
The following products are currently available through the Outreach Program:
More products are going to be added soon, and eventually it is hoped that most or all InfiniBadger products will be available
If you're involved in a program that may qualify for the Outreach Program, please fill out the form below to speak to us about the program and how we can help you.
---
I'm interested in your Outreach Program. Please send me more information!