The Foundry is where you can find a list of all of the projects we have that are in the pipeline but aren't in production yet.
LOCALE SERIES
The Locale Series provides single locations in urban and other environments that include maps, details of characters that can be found there, and potential hooks for using them in your own campaigns.
LS1: THE GINGER HALFLING INN
Grygor Aronius Zambat is no ordinary halfling. According to him, in his past he has been a prince of thieves, a courtier who has romanced sovereigns, a compatriot to heroes in far off lands, and allegedly a dragonslayer. And yet he now runs an inn in the middle of nowhere. Something's not quite right about Grygor, something more than just that carefully maintained carrot-colored mullet he loves so much. And the same can be said of many of the inn's regular patrons…. A complete and detailed locale with multiple maps, NPC write-ups, hooks for play, and more. For Labyrinth Lord, Swords & Wizardry, and OSRIC. 28 pages. 
OLD SCHOOL SUPPLEMENTS
The Old School Supplements series of products are designed to add new rules or options to your old school games.
OSS 2: MADE NOT OF FLESH
Being a collection not only of the finest golem recipes, but also a treatise on the creation and destruction of golems of all types. For Labyrinth Lord, Swords & Wizardry, and OSRIC. 64 pages. PDF, e-book, raw-text formats. MSRP $9.99. June 2016.
VIGNETTE SCENARIOS
The Vignette Scenario series are a set of ready-to-use drop-in-to-play modules that you can use quickly to help enhance your own campaigns, or to run as one-shots
VS3: RETURN TO THE TOWER OF AZAKARSH
Six centuries ago, the tower of the great wizard Azakarsh stood sentinel over the plains of Dyle. Then it exploded. Today, another wizard wants a hearty group of adventurers to use a sorcerous machine to go back in time to retrieve something from the tower before it explodes. For 4-6 adventurers of levels 6-8. 
THE UNMAKING CAMPAIGN
The Unmaking Campaign is a series of 10 linked adventure modules that build together to create an epic campaign that brings about either the destruction or the saving of the world at the players' hands. Each module in the series is designed to allow player characters to grow and develop 1-2 levels of play and introduce players to a rich world and setting for play.
U1: THE SILENT VILLAGE
A village is being terrorized by creatures who attack in the night and carry off their loved ones, leaving behind frightened survivors too terrified to help themselves. For 4-6 adventurers of levels 1-2. For Labyrinth Lord, Swords & Wizardry, and OSRIC. 48 pages. PDF, e-book, raw-text formats. MSRP $6.99. March 2016.
GAME SYSTEMS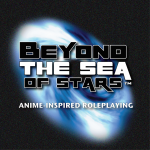 BEYOND THE SEA OF STARS
Inspired by JRPGs, anime, and manga, Beyond the Sea of Stars is a homage to these, built upon a heavily modified version of the dungeon-crawling game that many of us grew up with. Hewing to old school aesthetics but with a modern game engine using variable dice pools, this game allows you to take on many different roles in a universe where science and magic, men and aliens, and organics and machines collide.
CODENAME: TRAPTEAM
The supernatural world has exploded back into the world of the natural, and capitalism has never felt so good! Take up the mantle of a proton wand-slinging, spook trap-deploying maverick intent on making big bucks by saving your city and the world from the threat of preternatural annihilation! An updating of a classic now out-of-print game built using an open game system, and including new optional rules and details for busting spirits in the 21st century.
SETTINGS
Nothing extra in the Foundry right now.
MISC
Nothing extra in the Foundry right now.