POLYHEDRAL DUNGEON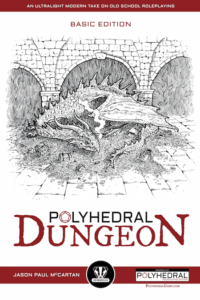 POLYHEDRAL DUNGEON is an ultralight modern take on old school roleplaying. Using the new and simple to use and extend POLYHEDRAL SYSTEM, you can have countless hours of fun delving into dungeons and stealing dragon's hoards.
Features of the game include:
Create new characters for play in about 5-10 minutes.
Choose from the classic old school character tropes, but with slight twists. Play classic dungeon crawls with a flexible unified system that's easy to learn and extend – make up your own content, or use any of the official Expansions, including The Advanced Rules which provides many new options for play, The Book of Monsters which expands and explores the Monsters in the game, The Book of Loot for more complete treasure and loot options, including many unique items, and The Book of Magic, which expands Talents and rules for magical and divine characters.
Designed for quick pick-up play as well as to handle large groups of players who have little experience in tabletop roleplaying – a perfect beginner's game and still fun for experts.
Pocket-sized, so that you can take it wherever you're going.
Includes dice printed in the page margins in case you forget your own, or if you need to make a secret roll as the Judge!
Includes a Giant Badger!
Layered and unlayered PDF versions included!
Also includes The Crypts of Bes-Amat, a free adventure showcasing how simple it is to create and run adventures for the game and system, as a separate download.
The book comes in a fully layered and bookmarked digital version, in both color and grayscale formats. Full-sized character sheets are available in both formats too. There is also a downloadable full-sized cover that can be used to make your own print-at-home version!
POLYHEDRAL DUNGEON is 48 pages in size and published in 6″ x 9″ US trade format.
PREVIEW

BUY