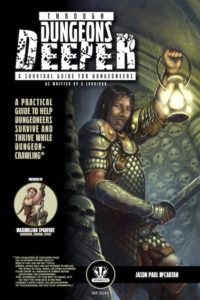 We're proud to announce that THROUGH DUNGEONS DEEPER is now available on Lulu in digital and print formats. The 150-page softcover paperback is $25.99 and the digital edition (as a PDF on Lulu) is $9.74 (normally $12.99 but on sale to match the current OneBookShelf price). In 6-8 weeks, this edition will hit distribution and be available on Amazon, Barnes & Noble, and through Ingram retail distribution.
The ebook versions for THROUGH DUNGEONS DEEPER are almost ready and will be made available to everyone who buys a a print or digital copy on our site or elsewhere.
THROUGH DUNGEONS DEEPER is a digital+ product, so that means if you buy the print version, you get the digital version for free as well. Due to limitations at Lulu, we can't issue digital copies through there, but we can offer them here on our site. Just follow the directions at the digital+ page to redeem your free digital+ copies. If you buy the digital version, you can get backup copies here from our site too! Also, if you buy the digital copy, you can receive a discount on a print copy at OneBookShelf.
THROUGH DUNGEONS DEEPER is also available on OneBookShelf as a digital edition for $12.99 at DriveThruRPG and RPGNow. The print edition for OBS is in the last stages of proofing and should be available within the next week. Anyone who has bought the digital version will receive a discount code to get the print edition for $13.00.